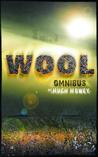 Wool Omnibus by Hugh Howey
My rating: 4 of 5 stars
Wool is another dystopian book chronicling the life of the people left behind. In this case, the 'survivors' live in an rather sophisticated underground silo. While I love this genre, it is often difficult for authors to standout in the crowd. Surprisingly, I think Hugh Howey manages to achieve this.
The series begins by following the community's sheriff as he prepares to be expelled from the silo. Individuals who do not conform to the community rules are sent out into a toxic wilderness and forced to clean a lense that offers the only view of the outside world.
Events take off from there and readers are treated to an interesting take about what it means to be a survivor. Exactly who are they surviving for and why?
I enjoyed the story and found the writing and pace of the novel to be adequate. Howey does a solid job of creating another world in a space that still allows readers relate. I also enjoyed the authors use of suspense as the story unfolds.
All and all, I would recommend this book to readers of the apocalyptic genre.